Jiří Ježek lost his leg due to an accident at the age of eleven. Nevertheless, he became the six-time Paralympic winner and also the six-time world champion in cycling. In August, the Spanish journal Marco placed him in the ranking of the best athletes of the 21st century, that's as the only Czech.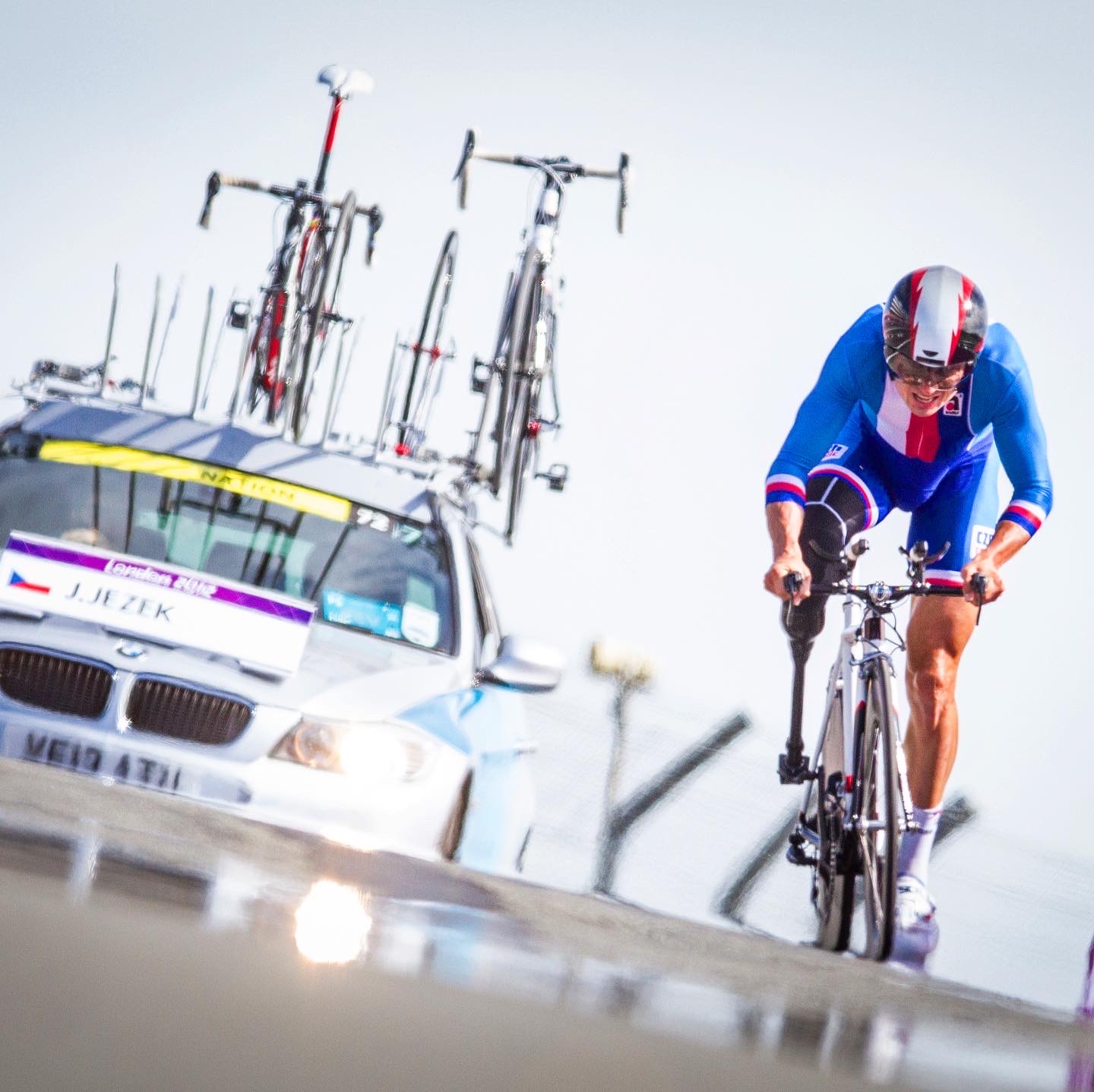 You are a six-time Paralympic winner and world champion in cycling. Why cycling?
Cycling has fascinated me since childhood. I admired the heroes of the stages of the Peace Race, but I did not believe that I could ever go cycling. I thought it was very difficult. That's when I chose football. I played for two years as a student of the Sparta Prague. Then, when I lost my leg at eleven, my bike initially replaced it. This gave me an even stronger bond with cycling.
How did you get into sports with your disability?
Relatively late, in my twenties. I saw footage from the 1992 Summer Paralympic Games in Barcelona and found that I could perform at the top-level sports with my disability. I chose cycling, even though I initially took it only as a hobby for my job.
You also have races with healthy cyclists. How was your training?
I have always tried to draw from great coaches and experienced racers. At that time, the Internet was not so widespread, so I had to study a lot on my own. I always compiled training methods and planned them myself, but of course, based on the advice and recommendations of my coaches.
This year, the Spanish journal Marco published a ranking of the best athletes of the 21st century. And you are in it! Moreover as the only Czech. Are you happy?
Of course, it made me happy. But I take it in stride. I think that, as the Czech Republic, we have had many more successful athletes in the last twenty years, who have shaped the history of their sports at least as much as I did.
The daily justified the choice with the words "The best Paralympic rider in history due to his quality and versatility." What do you think he means by that versatility?
I competed successfully in most disciplines of track and road cycling. I enjoyed it, and at the same time, I kept reviving my career. I liked to alternate the speed and elegance of the velodrome races with the atmosphere of the professional stages of royal road cycling.
You were not born with a disability. When you were 11, you crossed the street and unfortunately got hit by a truck. Tell me how a person in such a situation "fights" with that intrusive idea built on irrational words like "if I were…". In other words, how did you get together and start making money?
As a boy, I took it quite bravely, but of course, it was thanks to my loved ones. However, there is indeed nothing complicated about it. After all, no one needs any great motivation to realize that we only have one life. That no injury or disability can stop us from living it fully and actively. We each have a role, a meaning to life. After all, everyone has a reason to get back from hospital back to the active life as quickly as possible.
According to several interviews, a meeting with cyclist Josef Lachman was important for you. He did the same with his feet while winning silver at the Paralympics in Seoul. It was 1988. How did the meeting affect you?
I read about him then. I was fourteen, puberty gaining momentum, so I didn't take much of his story. But later, I happened to meet him in person, and his charisma completely changed my view of the world. He drove me not only for cycling, but also showed me how he deal with his disability, and at the same time, he became a role model for me as a man.
You will celebrate your 50th birthday in five years. So tell me, what are your goals and plans?
I'm forty-five, I've had a beautiful sports career, achieved more than I ever dared imagine. It's a lovely feeling. But on the other hand, they are just memories. Today I want to enjoy life and make it pleasant to the people around me. I still try to do sports daily and motivate others a little bit, because I believe that exercise, a healthy lifestyle and a good mood are the best protection against stress and illness, which is currently increasing.
You are a great inspiration and role model for many children with various disabilities. Recently, thanks to the Czech Television, we were able to get a glimpse into the story of an eleven-year-old girl who has been struggling with severe leg and spine injuries since birth. Nevertheless, she plays sports and wants to participate in the Paralympic Games. We are talking about Alex Borská. She said that you are her role model. What is important from your training and overall training experience?
The most important thing for Alex at her age is to have fun with the sport, to make it a joy for her. So far, she is so young that an excess of training and great motivation would rather hurt her in her dreams of a top sports career. I am glad that she is enthusiastic about sports, has tremendous support from family and friends. It's nice to be able to compete, but so far it's just going to be a great addition to studying and preparations for future life. Sport can still strengthen her self-confidence and the necessary physical condition. Besides, she will meet a lot of new friends at the races. If she really decides to try his full sports career later, she will have a great foundation. But now it is too early to fix too much on the sport.
What advice would you give to young people with disabilities today, whether in connection with sports or life in general?
The same thing I say to "healthy" children. Live life to the fullest, laugh, be friendly, learn and remember that sometimes we have to do things that we don't like so much, but are necessary. The best "school" for this is sport…
You also support the European Days for Disabled Youth Emil Open. This year they will take place due to the world pandemic in September. What do you think is the main benefit of this event?
Exactly what I was talking about in the case of Alex Borská. It is a great and world-unique opportunity for young disabled athletes to experience the atmosphere of a major sporting event, to meet each other with friends who have a similar handicap and the same love and passion for sports. Make friends, gain grades and maybe even life experiences, compete and enjoy a few days in a different environment. Emil Open can be a significant experience for many young disabled athletes.
Can the participants of the Emil Open in Brno meet you this year?
So far, unfortunately, I can't promise anything, because due to the spring situation with COVID-19, many of my work events have been moved to September. But I'll try to figure it out because I'd be sorry if I didn't look at them. But my participation probably doesn't matter that much. It is important that the organisers manage to make the games possible thanks to a huge effort. I want to thank everyone for that and wish that this year's Emil Open games are a wonderful experience and a reward not only for the athletes but for everyone who will take part in them!