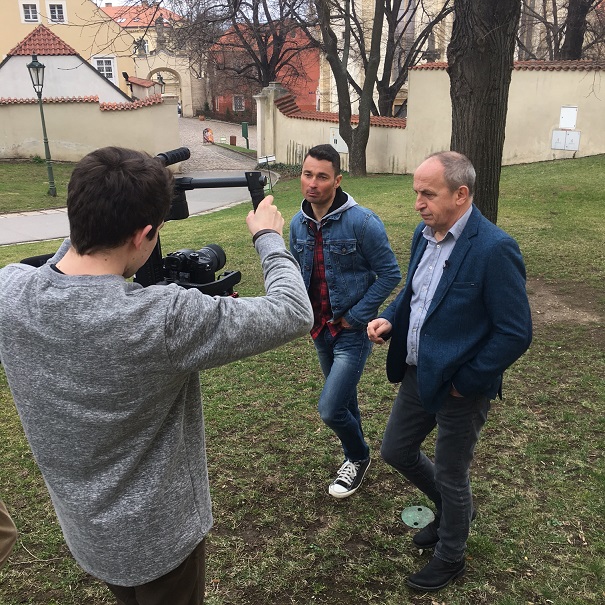 The six time paralympic champion and the world champion in cycling Jiri Jezek plans to end up his racing career in the end of this year. However, even after the long 23 years of his fruitful career, he is still able to enjoy the sport.
You are planning to end up you career after this season. However, Emil Open is an event which can start the career of the young sportsmen. Do you still remember your first real competition?
I will always remember it. It was a time trial on Neruda Street with the finish on the Prague Castle. It was a big international event and I was silver at the time. It was a great start of the career. Of course, on the other day I ended the last in the road race. But the experience from the Neruda Street was the best motivation for my next training.
Why are the events like Emil Open so important for young disabled people?
Every young athlete wants to compete. It is the most natural motivation to fight. In addition, such an international competition, such a great event with all the accompanying programs brings to young athletes the important experience of their partners from other countries and cultures.
Emil Open is open to the disabled who are just beginning with the sport. Do you think that it is a motivation for them to compare with the ones who devote to spport for a long time?

I believe it's certainly motivating. Anyone who wants to improve their skills should be able to learn from more experienced or better. I've also been trying to keep it my whole career.
Disabled athletes are a great motivator for healthy ones as well. What is the most valuable compliment / praise / award you have ever received? And we do not mean medals and trophies…
The biggest reward for me is that I can inspire through my life and sports success. I had luck in my life for the people around. A lot of people helped me a lot and they still help. And now I can give the help a little bit back give someone else an important impulse or motivation at a time when he or she is troubled or does not enjoy the happiest time by what we have done together.
How often do you see that people cannot handle people with disabilities and what do you advise them?
Nature and humor work most. I have it tried.
Are you going to be at the Emil Open in Brno personally? When exactly and what can we look forward to at Emil Open?
I will definitely want to be at the opening ceremony on June 7 from 4 pm at Svobody Square in the center of Brno. I like to watch the athletes happy at these festive moments, where the importance of the moment of the first big races is mixed with the expectation that they will eventually succeed ... And the day after, June 8, I will also test my bike speed at 16 o'clock as part of the TOP SPEED event with Jirka Ježek. Everyone who comes on a bicycle will be able to measure his speed on a short section of 300m with me or perhaps with the top runners from Dukla Brno. We wanted the Emil Open events to be open to anyone who would like to try out the sport. So I would like to call all those who like to ride a bicycle to visit "Svoboďák" this day between 16h and 17h.
Why should people come to Brno to look and encourage handicapped athletes?
A lot of people who came to stadiums to cheer for young handicapped athletes told me in the past years that they were leaving home with enormous energy, which ran from the racing youth to the audience. And those who took their children also appreciated the fact that it was an interesting lesson not only about the approach to handicapped peers but also about the various obstacles that life brings.
What is your racing program this year? Where do you start?
It's my last season, so I'm going to say goodbye to fans at home races that I like where I was doing my career. Of course, I will also take the most important races of Paralympic cycling, such as World Cups in Italy, Belgium and the Netherlands. At the turn of August and September, I want to go for the World Championship in South Africa.
You planned the end of your career step by step: do you already look back upon your career or?
It's very emotional for me, sometimes I find myself during training that I feel nostalgic, but it's really the time. I have been racing since 1994 and since 1999 I have been at the absolute top of the world. I'm really tired already. Cycling is always fun to me. But from a severe accident three years ago, every kilometer hurts twice, and it is clear that I will never get to the original performance. I managed to go back to the races, and for two more years to bring my fans the joy. Now is the right time to say goodbye. It was a wonderful career and I will leave with a beautiful feeling ...
Is it possible to count how many miles you've cycled?
I do not know exactly how many kilometers I've cycled, but it will be more than half a million km. Only for the past ten years, when I keep my records, I did not go under 30,000km a year. I dare say that no one from my opponents did not train that much, and maybe that's why I've been on the top for so long. But everyone has the way to success and "the more, the better" does not always work in sports. Everyone has to find the way and volume of training that suits his body.
What do you plan to do after completing a sports career? Are you going to be more focused on similar projects like Emil Open?
Everything I do is because I enjoy it or I see some sense in it. I want to continue all the activities outside racing, because I want to be in constant contact with the people I work with. All the companies around me have all the projects I have recently shared, for me, they are a nice cooperation and I will continue to pursue them. Just I'm not going to race anymore ...