The ninth year of the European Youth Games for the Disabled is coming. One of the people involved in renewing their tradition in 2017 was also Veronika Kuchtová. Today, she is the only Czech in the Tokyo 2020 organizing committee. We are bringing you an interview with her.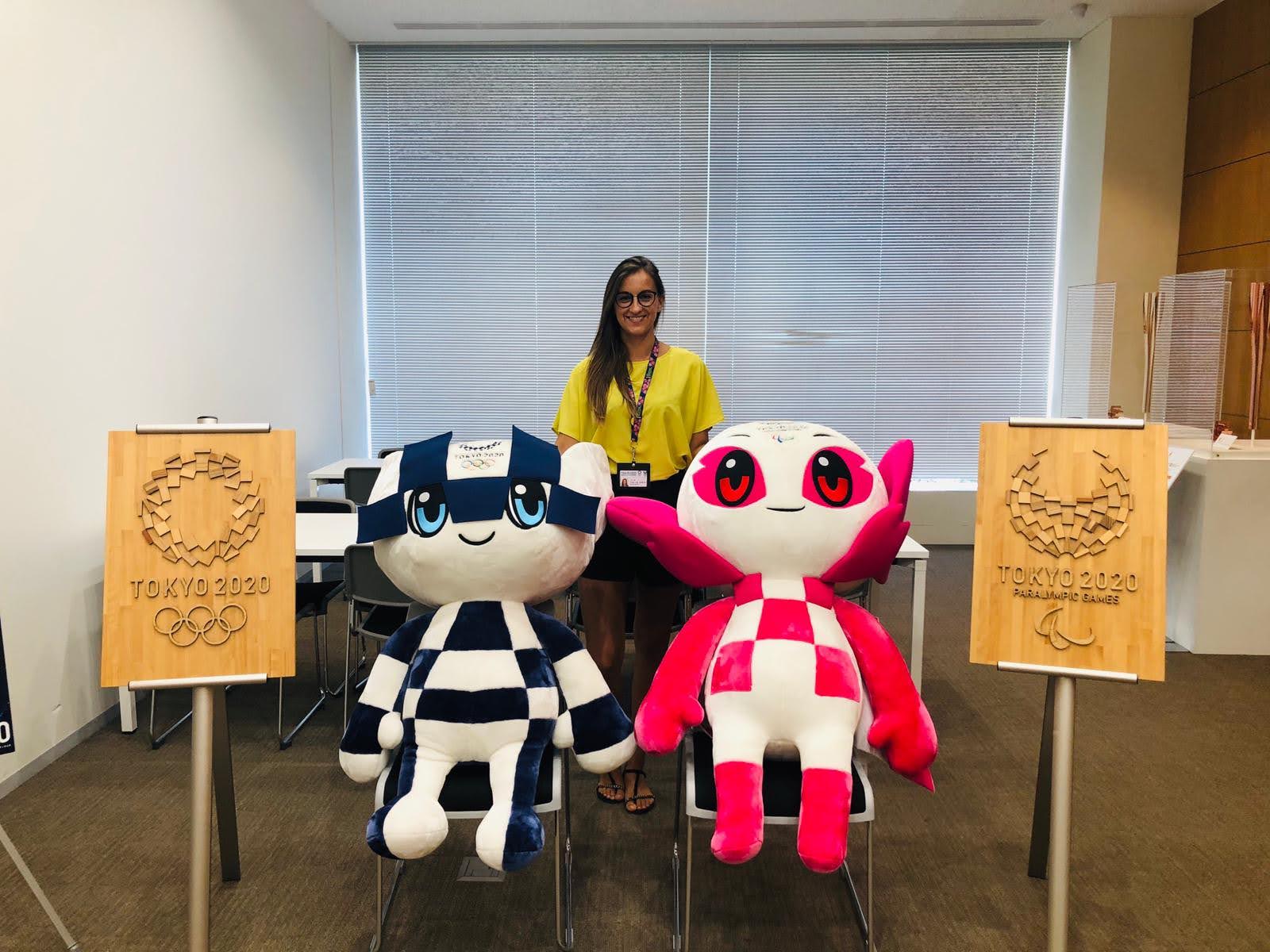 Veronika, you are the only Czech in the organizing committee of the Tokyo 2020 Olympic and Paralympic Games. What exactly do you do?
I am the Technical Operations Manager for para powerlifting. My job is very varied.
One of my responsibilities is procurement of equipment (sport, technological, furniture, etc.) for all the parts of the venue that our sport team will be using – our team´s areas, field of play, warm-up, training venue and all other athletes´ areas.
I also draft layouts of areas that we will be using including the field of play and plan venue flows of our stakeholders (athletes and their team officials, international and national officials, international federation representatives).
I make sure all planning is done in accordance with the WPPO Technical Rules & Regulations. Thus, I am also in regular contact with the International Federation, who oversees our planning and provides feedback to us.
Can you tell us about your journey towards working for such a sporting event?
Unexpected and surprising.
Working for the Paralympics was my dream ever since I became involved in para sport events. However, I did not have a career plan and did not take any specific actions to achieve it.
Somebody might call it luck, but I would also say that fortune favours bold.
My journey started right after university (major in Special Education and English Teaching) when I met Milan Kočí and Pavel Zbožínek and was offered to help organise the IWAS U23 World Games Prague 2016 (a world sporting event for disabled youth). I will forever be grateful for this opportunity and their believing in me.
The next steppingstone was re-establishment of the European Games (Emil Open) organised by the Emil Foundation with the first new edition in 2017. Creating an event from scratch was such experience. It taught me a lot and I have benefitted from it ever since. Which brings me to February 2018 when the Hungarian Paralympic Committee invited the Emil Open committee to speak at their International Para Sport Conference. I was given the honour to give a presentation on the Emil Open Games and participate in a panel discussion. There I met many prominent and respected persons including the head of the World Para Powerlifting with whom we discussed a possible inclusion of para powerlifting in Emil Open. Our discussion on this matter continued for a few months and then one day, out of the blue, I was offered the position where I am now.
This event is often confused with the Special Olympics World Games. What is the difference between these two events?
Both are non-profit organisations supporting disabled athletes, but they do vary in some areas.
One is the disability categories – Special Olympics are only for athletes with intellectual impairment while the Paralympics are for athletes with physical, visual, and intellectual impairment. Secondly, to compete in the Paralympics athletes must qualify and meet certain performance standards, so we are talking about elite sport. Whereas Special Olympics welcome and reward anyone over the age of 8 with any ability and believe athletics is a tool to reach one´s maximum potential. Lastly, the Paralympics are run by the International Paralympic Committee (IPC), whose General Assembly includes 4 International Organisations of Sports for the Disabled (IOSDs), 5 Regional Organisations (ROs), and around 180 member nations – the National Paralympic Committees (NPCs). The Special Olympics are run by Special Olympics International (SOI) that has national foundations around the world, which are financed mainly through charity.
The Czech Paralympic Committee is in charge of the nomination of Czech athletes for the Paralympics. Can you brifely explain how such a nomination process works?
The international Paralympic Committee issues qualification guidelines that contain qualification criteria and set quotas for individual sports. There are several ways of nominations and they differ from sport to sport. One of them is direct qualification, which is the case of para powerlifting where, according to the ranking, 8 men and 8 women are selected for each weight category (a total of 10 categories). There are also other limits - each country can send a maximum of 8 women and 8 men and have a maximum of 1 athlete in each weight category.
Another possibility for athletes is to gain a spot within the quotas their country has received. In this case athletes are nominated directly by the National Paralympic Committee that selects its best representatives who meet the qualifying criteria.
The first Summer Paralympic Games took place in Rome in 1960. Can you tell us how the Games have developed since then? At that time, over 200 athletes participated. How many participants will the Games in Tokyo welcome in 2021?
I will begin with a recommendation for our readers and that is to check out the movie Rising Phoenix about the Paralympic movement, which was released on 26th August 2020 on Netflix. Among other things, it shows the development of the Paralympic Games. I hope there will be more and more movies and other activities that can raise awareness in this area.
Personally, I really admire Mr. Guttmann, the founder of the Paralympics, because he created an event that changes people's mindset and contributes to a better society in many ways. In Tokyo, spectators will watch 4,400 Paralympians in 539 medal events. Isn't it a beautiful number? Every new Games gain new and new fans. Because whoever watches any sport for the disabled will forever remain enchanted.
The Olympic and Paralympic Games in Tokyo have been postponed for a year due to a world pandemic. They will take place from 23rd July to 8th August 2021. This is historically the first postponement of the Olympics. How are the preparations going? How do you think COVID can possibly affect the event in 2021? Are you already planning some new countermeasures?
Moving the world's largest sporting event, on which other sporting events depend, moreover, if you have never experienced such a situation before and you have no manual, it really is something unreal. I admire the speed with which the IOC, IPC, Tokyo and organizing committee act. Shortly after the postponement, a rough plan was announced about how everything should go in the next year and a quarter. Until the summer, we were supposed to continue with the planning and preparations as if the Games were going to take place according to the original plan. Since September we have been in the evaluation and testing phase. Of course, budget is a big concern, so we are already facing financial cuts and therefore we must change original plans and find new solutions. On Friday 4th September, among other things, the first coordination meeting for COVID-19 countermeasures took place. It will take place regularly and should result in mandatory countermeasures during this autumn, which each department of the committee will integrate into their planning of new operations. Starting from the new year there should be a testing phase in a form of operational readiness activities and test events.
Due to the pandemic, the 9th European Youth Games for the Disabled Emil Open also have a new date this year. They will take place in September in Brno. You are the former vice president. Can Emil Open be a preparation for the Paralympics?
Of course. Emil Open, just like all other grassroots sporting events for young disabled athletes in other countries, plays a huge role in the sport development. Very often, these events are the starting point for many future professional athletes. For example, Jiří Ježek, today a six-time Paralympian, started at Emil Open. But I personally see a different importance in Emil Open and other similar projects. Sport should be an integral part of life of each of us. It contributes to our physical but also mental health and to the development of social bonds. And this is one of the pillars of Emil Open.
You and Pavel Zbožínek renewed the tradition of Emil Open in 2017. What was your role?
I would say that my role was gradually changing. During the preparations of the first edition, Pavel Zbožínek and I started almost from scratch and worked on everything together. By this, I mean the whole games concept – eligible athletes, rules, development of the registration system, website etc. I was always in charge of communication with the participants, administration of the entry system and website, creation of rules and other documents in cooperation with the sports directors, and supervision and guidance of our managers. However, we were one team the whole time and solved many things together. I like to remember these days.
How do you perceive today's Emil Open?
That is a tough question, because Emil Open is something like my child, so I am not sure my answer will be objective. I am very happy the project exists because there is no doubt it makes sports for young people with disabilities more accessible. And it does it in a unique way. At least within Europe, there is no competitor as there is no other sporting event for youth with disabilities without an entry fee. And the fact that the Games will take place also this year, in these difficult and unprecedented times, also proves their great popularity in many countries. It is amazing to see how many young athletes look forward to Emil Open each year. I greatly admire the organizers. I would like to wish them good luck, strong nerves, and to all the participants amazing sporting experiences!