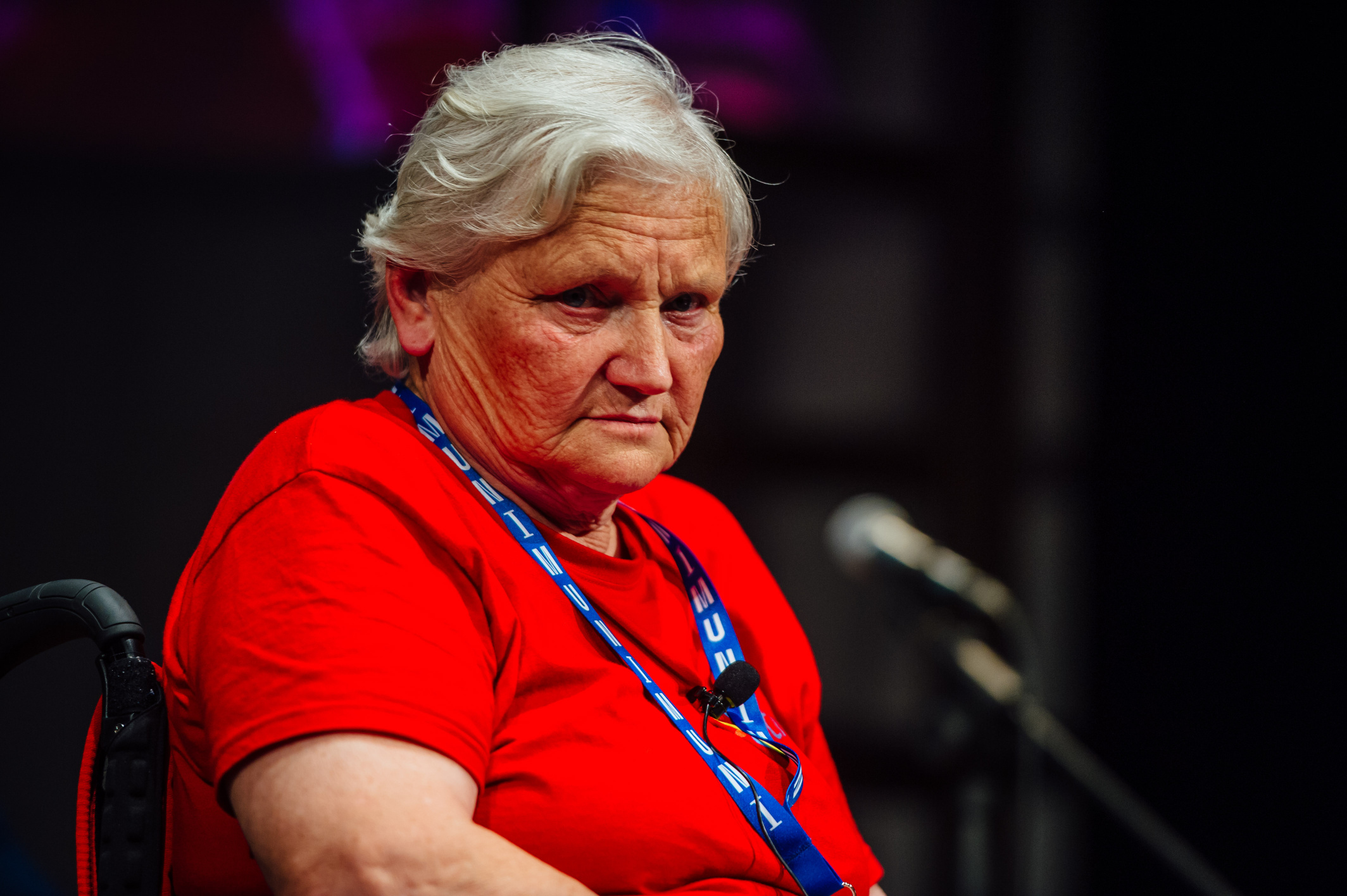 Hana Válková is one of the key creators of the concept of the European Games for the handicapped youth Emil Open. She has been teaching at the Faculty of Sports Studies of the Masaryk University, which is a partner of the event, for more than 5 years. The former president of the Czech Special Olympics Movement talks in an interview about how the European Games for the handicapped youth have developed, but also about how she likes to lie down in a bath with foam.
In September, the 9th European Games for the handicapped youth will take place in Brno. What do you think is the main benefit of this international event?
The first year of the games took place in 2009. At that time, these were games for young people with physical disabilities. I personally have been participating in the Emil Open since 2016, when the leadership changed and also the games were given this new name and focus. The first year brand new was not easy at all, but we managed to start a new era, for which the word "open" is important. This means that the games are for athletes, but also for unregistered clubs and groups with parents. The OPEN concept brings with it the possibility of meetings, competitions, new impulses and inspirations emanating from various parts of the Czech Republic and some European countries. Today, the games are intended for athletes with various health or mental disabilities together.
In addition, I have to also mention that the Emil Open is now attended by a great team of people - a large part of colleagues are from the Faculty of Sports Studies of the Masaryk University, from teachers and doctoral students to students.
So what is essential for the participants today?
The decisive factor is the current performance of the participant with which he advances to the finals. All those who complete the qualification honestly and with effort will get into it. All finalists who fight for a place are awarded on the podium. Everyone, but for something. And it is not decisive whether the athlete does not see, hear or walk.
How do you choose the sports that will be part of the games? There are five of them this year.
One of the criteria is the fact that sports are manageable from 10 years. The mentioned concept of "open" is limited to the age of 10 to 26 years. It is also important that sports are based on natural movements and are safe as well. They should also not be economically and transport-wise demanding. This is because these areas are limiting for the practice of sports in local conditions. We try to show the others in additional programs. Last year it was parapaddleboarding.
Emil Open 2020 consists of five sports. Which one has the most applicants?
It's definitely athletics. On the other hand, there is a risk of escape "I can walk, so I can do the 50 meters sprint." That's not true. Even here, the competitor has to keep the direction in the limit of the track. Otherwise - SORRY, it's DQ. Although we have the OPEN format, we are not charity event, but sports event. Other sports include swimming, table tennis, boccia a bocce.
Do you think that training is important?
One of the conditions is that competitors, even if they are not required to be registered in clubs, must have the chosen discipline mastered at a certain level. It is a condition that we, as organizers, of course cannot control. The Head of Delegation or their entourage is the guarantor, as this concerns not only performance but above all security. I know from personal experience that despite the fact that they train, they have only few opportunities to compete, and therefore they welcome every competitive opportunity. And honestly, can you compete in swimming, running 200 meters on the track or table tennis without training? If they don't posses the know how, the competitors and their leaders as well will be deeply ashamed.
The Emil Open is proof that disability is not an obstacle for life, and therefore also for sport. You work with athletes who already have a disability. How do you think they perceive their handicap?
I can't speak for them, but I still personally meet the participants. In my opinion, of course, they are aware of their limits, but if something works out, they are rightly proud of it. Speaking for myself, I must also say that it is not just about what skills they can master, even if modified, or how they improve in performance, but about being able to compete according to the rules in sport, congratulating rivals, being able to behave in public transport, when eating, they can ask for help or even refuse it, because they can do it themselves.
You are, among other things, a professor at the Faculty of Sports Studies of the Masaryk University. Is sport and handicapped people also a topic at the faculty?
The faculty complies with European regulations of university competencies in sports. What does it mean? That the focus must be on the population average, but then both edges: talented people heading for professional sports or coaching, as well as people with disabilities. Different fields have different topics and their content, which relates to physical activities and sports for people with "differences". It is important that students have specific practice in the field in this area and do not have just some theoretical wisdom. I mentioned at the outset that the Emil Open is now based on these students and is also made up of a large percentage of volunteers. I hope that the specialization of coaching and physical education teaching for the field of disability will also be accredited.
In your opinion, is there sufficient support in the Czech Republic for the integration of sports activities into the everyday life of people with disabilities?
Honestly, many people will answer such a question saying: "No support, no money." But there is never enough of that. However, I think that the existing legislation and finances can be better, i.e. systematically used. The main element here is the people in whom they have to invest. Not only people with a professional education, but above all attuned attitudes to move things forward. The motto from this area is: EVERY INDIVIDUAL IS A CHALLENGE.
In what way, as the Czechia, could we still "get involved" in terms of support?
Again, I consider it necessary to reiterate that everything depends on people. Less self-asserted ego and hostility to different opinions, more tolerance for individual sports and athletes with disabilities. Abroad, it solves this by providing systemic so-called handi-sport or para (parallel) sport. This is the topic of the current panel of the National Sports Agency. So we will see if we would touch foreign models. In any case, the Emil Open is helping to break down borders.
Sport seems to be important to you. How did you get to it?
Of course, thanks to the family environment, even though no one in the family did any top-level sport. My parents led me more to culture and foreign languages. But exercise took place in our everyday life. Then it is no longer a problem to find a suitable association or sports group at school, then in a club and through participation in sports competitions. So I didn't do very well in the family tradition. Today I don't look like it anymore, but I reached a decent level in athletics (national team), but in my junior age. Then I was lured by basketball. We were playing in my group of veterans until recent days. Of course, in our generation, we weren't waiting with conceiving the children until we were in our forties, so then we enjoyed a lot of sports with the children, with the grandchildren, and my great-grandson is already running.
And are you actively doing sports today, Professor? J
Try to imagine that I'm doing nothing, because I pour myself int in all my activities every day that I like to sit down or take a dip in the bath with nice foam. But I always welcome to go on a bike, a trip or a swim!