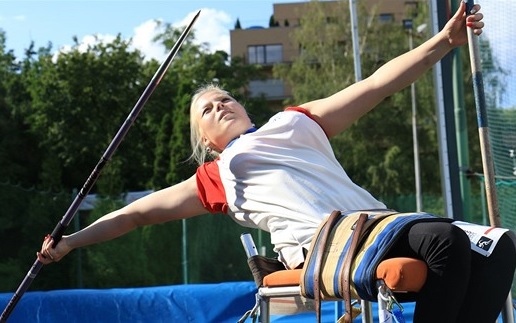 One of the well-known athletes who will start at Emil Open in Brno in June will be the thrower Kateřina Nováková. Last year, she had the unique chance to train with the javelin throw world record holder Jan Železný. It was like a dream comes true. And she wants to fulfil her next dreams this year too.
How much do you look forward to Emil Open and what feelings do you expect while coming to Brno?
I really do look forward very much and my main target is to fulfil the qualification criteria for the world championships in London. Maybe even to throw the personal best.
How important is this competition to you among the other races?
It is very important. I think it is one of the major events this year together with the world championships.
Last year, you already participated in the IWAS in Prague. What kind of memories do you have?
I improved my personal maximum there so it was very nice. I have never thrown so far before that, not even in the training so it was cool I managed that just in the Czech Republic on the home soil. The fact is that I have no opponents at home; the girls do not perform so well.
You were one of the faces of the IWAS project last year. How was it to shoot the video with Jan Železný?
For sure, it was a big motivation for me. It was a very nice meeting and I can even say it was a dream comes true.
What is the next dream you wish to fulfil this year?
So, it is the world championships in London, and then maybe if I could walk, that would be the best thing (smile).
When it comes to the Emil Open, how do you like Brno? Do you know the South Moravian metropolis?
In fact, I have never been to Brno properly. Yes, I have competed there once but we did not go to the city so I remember the beautiful blue track.
So now it will be a good chance to see something more. Is you family and friends coming to support you?
I guess only friends who train with me sometimes, and the coach. They help me to bring things and stuff.
What would you say to the sport fans to come to Brno and support athletes at the Emil Open?
Sometimes it happens to me that I start to feel very nervous and do not perform so well when I know there are people watching me. That is also the reason why my family does not go to the competitions too much. But they came for the IWAS last year. I guess the support is very good for the other athletes. Definitely, you must come and support!